Date of birth
: 14.10.1976


How I joined the band:

I was looking for other musicians by an ad and so I met David. Him and me then founded Azurica.

My motto:


You harvest what you sow


My hobbies:


Azurica, Azurica, Azurica and everything depending Azurica..that means music, recording, website, design and so on...., pinball machines
Music:


Mainly I listen to metal, but that can vary to classical or something elso, depending on my mood. I am also very various concerning bands. I am old-fashioned an buy cds instead of downloading them. So in a store I look at the sampler cds, buy them and if there is a good song I buy more that band.
Inspirations
:


...are difficult to be sticked to persons. But they com more from the classical than the modern.

Contact:
elmar@azurica.de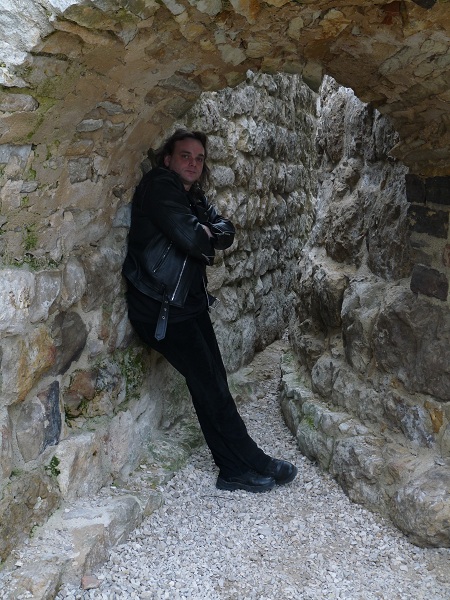 Equipment:
drums:
TAMA Artstar II piano white w/ black hardware 2x24" Bassdrums, 10", 12", 14", 16" Tom Toms, 2x18" Floor Toms

TAMA Artstar II white w/black hardware 2x22" Bassdrums, 10", 12", 14", 15" Tom Toms, 16" Floor Tom
TAMA Granstar gun metallic gray 2x22" oder 24" Bassdrums,verschiedene Setups aus 8", 10", 11", 12", 13", 14", 15", 16" Tom Toms, 16" und 18" Floortom
TAMA Crestar red pearl w/ black hardware 2x22" Bassdrums, 12", 13", 14", 15" Tom Toms, 16" Floor Tom

snares:

TAMA Artstar AW526 6,5x14, TAMA Imperialstar 5,5x14, TAMA LU1465 6,5x14, TAMA Artwood custom AM1455BNTBB 5,5x14,
TAMA Metalworks ST1455BN 5,5x14, TAMA Warlord Spartan 6x14, TAMA Artstar AW525 5x14
cymbals:

Zildjian Avedis Medium Crash Brilliant 16", 2x17", 2x18" or Zildjian Avedis Rock Crash Brilliant 17" and 18" or Zildjian Z custom 18" Crash, Zildjian Avedis China Boy high 20" or Zildjian Z custom China 20", Zildjian Z dyno beat Hi Hats 14"
Meinl classics custom extreme metal crash 16" 17" 18", extreme metal china 18", medium crash 18"
hardware:

TAMA HC104TB, HS90, HH95, HH95NL, HH95XH, HC94B, HP90, HP45, HS90, HP900PTWC, HS910LSW, HP900P, HP910LS
heads:

Remo pinstripe, Remo cs ambassador

sticks:

Rohema Elmar Schwalbe signature

mics:
Sennheiser e604, Electro Voice EV868, Shure SM57, Audio Technica Pro 35, Sennheiser e901
inear:

LD MEI 1000
Inear Stagediver SD-3